Environ Viscose: Sustainability and Vibrancy in a Range of Colors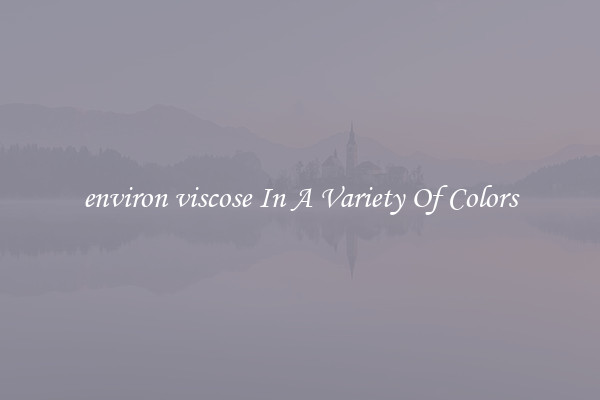 When it comes to sustainable fashion, one material that has been gaining a lot of attention is environ viscose. This eco-friendly fabric offers a promising alternative to conventional rayon, known for its detrimental environmental impact. Environ viscose is not only environmentally friendly but also comes in a variety of vibrant colors, making it an attractive choice for the fashion industry.
Viscose, commonly referred to as rayon, is a popular fabric used in clothing due to its softness and drape. However, the production of conventional viscose involves harmful chemicals and deforestation, making it one of the most environmentally damaging fabrics on the market. Environ viscose, on the other hand, offers a solution to these environmental concerns.
Environ viscose is made from sustainably sourced wood pulp that comes from certified forests and plantations. Unlike conventional viscose, environ viscose production follows stringent guidelines to ensure that no endangered or ancient forests are affected. Additionally, the manufacturing process of environ viscose is designed to minimize water and energy consumption, reducing its ecological footprint.
One of the most appealing features of environ viscose is the wide array of colors it can achieve. From deep jewel tones to soft pastels, environ viscose offers a vibrant and versatile palette for designers and fashion enthusiasts alike. Whether you're looking for a striking red for a cocktail dress or a soothing blue for a summer blouse, environ viscose has it all.
The dyeing process for environ viscose is also eco-friendly. Many conventional dyeing methods require a considerable amount of water and use harsh chemicals that can pollute waterways. Environ viscose, however, uses low-impact dyes that require significantly less water and are free from harmful substances such as heavy metals and azo compounds. This ensures that the vibrant colors of environ viscose are achieved without causing harm to the environment.
Furthermore, the durability and quality of environ viscose make it an excellent choice for long-lasting fashion. Unlike some synthetic alternatives, environ viscose retains its softness and drapability even after multiple wears and washes. This means that your favorite environ viscose garment will not only look good but also stand the test of time, reducing the need for fast fashion consumption.
As sustainable fashion continues to gain momentum, materials like environ viscose pave the way for a more environmentally conscious industry. By choosing environ viscose, designers and consumers can support responsible production practices while embracing a kaleidoscope of colors in their wardrobe.
In conclusion, environ viscose offers a sustainable and vibrant choice for fashion lovers. Its production process adheres to strict environmental guidelines, making it an eco-friendly alternative to conventional viscose. Additionally, the wide variety of colors available in environ viscose allows for endless creative possibilities while minimizing the environmental impact. So, next time you're looking for a colorful and sustainable addition to your wardrobe, consider environ viscose and be part of the fashion revolution towards a greener future.